Two companies offering high-quality, reasonably priced products without defects
Respectively founded in 1997 and 2012, we, the YKHC Manufacturing Co., Ltd. and HUA CHAN Industrial Co., Ltd. boast over 20 years of experience in mold research and development as well as plastic injection-related technologies. Additionally, we have established favorable business relationships with numerous major manufacturers. Initially focused on designing and developing YKHC molds, we accumulated relevant experience and refined our mold design and development before YKHC created a plastics department in 2008 and established the HUA CHAN Industrial Co., Ltd. in 2012, with the latter endeavoring in plastic injection-related businesses.

The goals of YKHC and HUA CHAN are to produce affordable, high-quality products; enhance our technologies; regularly add manufacturing equipment; and possess robust measuring equipment.

Currently, YKHC and HUA CHAN can perform all mold-related processes on our own, such as designing and developing molds, executing production test runs, conducting quality inspections, engaging in mass production, and completing mold processing and packaging. During the mold development and manufacturing processes, we actively communicate with our clients to identify problems and find solutions, allowing our clients to be updated about their mold designs and all manufacturing-related details.

Recently, we are proud to announce that our machining ability is expanded. Machining process with CNC high-speed milling, wire cut, grinders, lathes and milling stations makes our tooling lead time more competitive. Moreover, piece part production is also available to conduct.

If you have any mold research and development and/or plastic molding-related questions and/or demands, please feel free to contact us. YKHC and HUA CHAN will be there to meet your needs.

For more than 20 years, YKHC and HUA CHAN uphold the philosophy of "Our job is not to manufacture products, but rather to satisfy our clients." Today, we continue to grow to respond to the various challenges thrown to us by the world, hoping to become our clients' best and only choice.
營業項目:OEM、ODM客戶委託之出口塑膠射出鋼模HASCO 、DME射出代工總重4噸以下鋼模。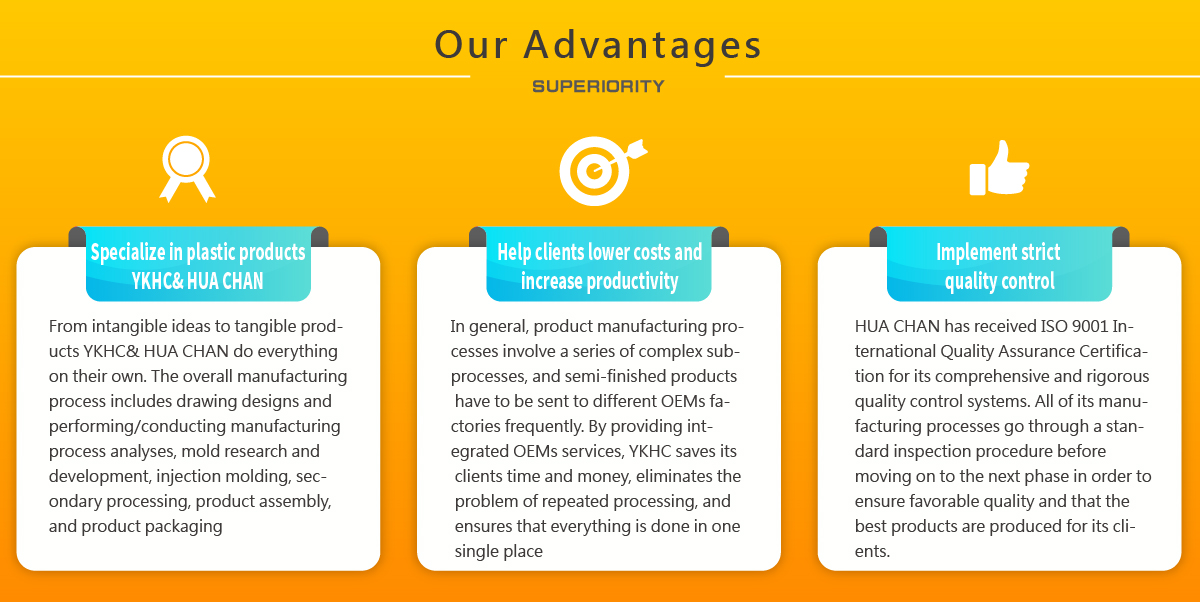 Software
1. France - Professional TOP SOLID-CNC processing and mold demolding software
2. AUTODESK - Moldflow professional analysis software offering the optimal solution for injection and making molds
3. Moldex3D - moldflow analysis software providing the optimal solution for injection and making molds
4. SIEMENS NX - Professional CNC processing and mold demolding software
Number of machinery/equipment

Electrical discharge machine 400×500

1

Sodick electrical discharge machine 400×300

1

CNC wire cutting machine 450×350

1

CNC milling machine

1

Milling machine 1.8

3

Mold grinder

2

Sumitomo SE180EV-A

2

Sumitomo SE100EV-A

2

Sodick MS100 EV-Line

1

Plastic injection machine 200ton

1

Electric plastic injection machine 100ton

2

Upright plastic injection machine

2

Lathe

1
Inspection equipment

2.5D projector (manual 300*400)
A PJ3000 projector
2.5D projector + probe (CNC400*500)
A BELTA-686 three-dimensional measuring instrument
(600*800*600)
Product category
Connector-related electronic parts, home appliances and outer casings, and electric automotive machines
Insert molding processing and finished electric automotive machine parts
-YKHC's vision- 
Be client-oriented/provide integrated services to maximize client value



Be committed to providing high-quality products/services -Implement comprehensive management and continued improvement